Kitchen Countertops
Material

Solid Surface
Quartz
Granite
Laminate
Brand

Cambria
Corian
Formica
Meganite
Silestone
WilsonartHD
Zodiaq
Your kitchen countertop may be the first feature of your kitchen that guests will notice, and holds the potential to enhance its overall beauty. Finding a kitchen countertop option that functions best for your household may require considerations that look beyond just its appearance. We desire to make this task easier for you by providing some salient points about each broad category of kitchen countertop surfaces.
Corian®
Corian kitchen countertops are best known for being the original solid surface – made of natural minerals, pigments and acrylic. Made by DuPont, Corian has been in the marketplace for over forty years.
PROS: Corian offers many solid color and pattern design options. Corian is non-porous and doesn't require sealant or polishing. It is fade, stain, scratch and bacteria resistant. An expert installer can cut and install Corian to appear seamless.
CONS: Cutting food on Corian kitchen counters may scratch or dull them. Placing a hot pan directly on Corian can also cause damage. However, most damage done to Corian can be easily repaired.
Quartz
Quartz countertops are an engineered stone material and offered under various brands including Cambria, Zodiaq, and Silestone. Quartz products are made of 93 percent natural quartz mixed with pigments and acrylic resin.
PROS: Quartz options are available in more than a hundred colors and patterns. Like Corian, Quartz products are non-porous and don't require sealants or polishing to retain their luster. They are also scratch, chip, stain and bacteria resistant.
CONS: Quartz countertops can crack if exposed to direct heat over long periods of time. However, since no countertop is invulnerable, simply using a trivet or hotplate can prevent heat damage to quartz.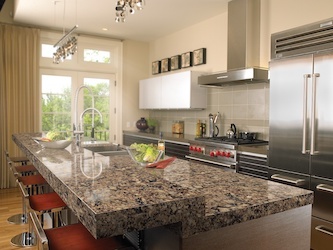 Granite
Granite usually refers to 100 percent natural high-grade stone quarried from different sites around the world. To date, granite is still a highly popular countertop.
PROS: Granite forms naturally in a wide array of colors and unique, visually appealing patterns. It is heat and scratch resistant, as well as stain-resistant if sealed.
CONS: Granite countertops can crack or chip, and color and grain inconsistencies can make them costly to repair or replace. Granite is porous and must be sealed to prevent stains and discoloration. Granite may also have larger, more visible seams compared to other countertop options.
Laminate
These kitchen countertops are thin, lightweight, and more affordable materials made of compressed paper layers bonded with resin.
PROS: Laminates are available in hundreds of solid colors and patterns including designs that mimic the look and texture of natural granite or wood (see Wilsonart HD). Laminates quickly install on existing or wood substrate replacement countertops. Although they have seams, some manufacturers offer visibly seamless ogee and bull nose edge options.
CONS: Laminate countertops can scratch, chip, burn or stain. Some lesser quality brands can even warp with exposure to high moisture and humidity, or melt with exposure to heat. However, proper care and maintenance can ward off most damage to laminates.